What has taken so long? This should have been done twenty years ago, or more…
https://www.theepochtimes.com/senators-unveil-bipartisan-bill-to-protect-american-workers-from-chinas-unfair-trade-practices_3783359.html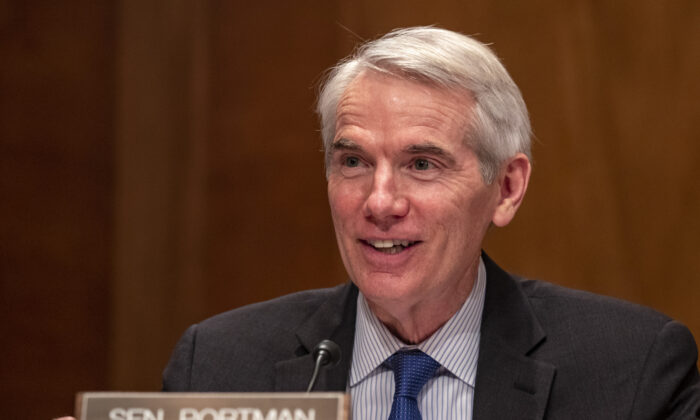 Two U.S. senators on April 16 unveiled a bipartisan proposal that seeks to strengthen domestic trade remedy laws and protect U.S. workers from what they called China's "unfair trade practices."
Sens. Rob Portman (R-Ohio) and Sherrod Brown (D-Ohio) introduced the Eliminating Global Market Distortions to Protect American Jobs Act, saying in a statement that strengthening U.S. laws will ensure they remain "effective tools" to fight back against Beijing's trade practices.
The legislation will protect U.S. workers in industries that are important to the state of Ohio, Portman and Brown stated.
The bill would establish a new concept of "successive investigations" to improve the effectiveness of the U.S. trade remedy system in responding to "repeat offenders and serial cheaters," helping to level the playing field for U.S. workers.
It also would help block steel overcapacity that leaves steelworkers and companies in the state at a competitive disadvantage, they stated.
In the past decade, China's communist regime has created large state-owned enterprises in several industries such as aluminum, steel, and solar panels through hefty government subsidies.
Then-President Donald Trump, in an effort to tackle China's unfair trade practices, imposed tariffs on a long list of Chinese imports, including aluminum and steel, which sparked the U.S.–China "trade war."
The two sides signed a phase one trade deal in January 2020, requiring China to buy an additional $200 billion in U.S. goods and services during 2020 and 2021, compared to 2017 levels. However, a report published in February found that China has bought just 57 percent of what it promised under the deal.
"For decades, China's unfair trade practices have cost countless U.S. jobs and hurt our economy," Portman wrote on Twitter in announcing the legislation. "It's time we stand up to China by taking action to protect jobs in sectors that are important to Ohio and the nation as a whole."
Portman said the bill will strengthen U.S. antidumping and countervailing duty laws to challenge China's trade practices and protect American workers.
"Nowhere is China's disdain for the free market more evident than in the steel overcapacity crisis. Twenty years ago, China produced 18 percent of the world's supply of steel. Now it is roughly 50 percent," Portman stated.
"Today, it is steel, but tomorrow, it could be electric vehicles or semiconductors. This overcapacity is the result of deliberate choices by China to subsidize their industries and degrade the free market in pursuit of global market dominance, all at the expense of American jobs."
Brown said in a statement that "trade cheats" have shuttered plants across Ohio, put residents out of work, and distorted markets.
"This bipartisan legislation will strengthen our trade remedy laws, make clear the U.S has the tools to fight back against these harmful practices, and will help keep Ohio workers on the job," he stated.
Kevin Dempsey, president and CEO of the American Iron and Steel Institute (AISI), applauded the proposal. He says that it's a push in the right direction toward promoting fairer competition for U.S. industry, and will give Americans confidence that their government "has every tool available to fight for a level playing field for every American worker."
Frank Fang contributed to this report.