Talk about insider trading? Tell me about this garbage…
https://www.zerohedge.com/markets/nancy-pelosis-husband-uses-call-options-buy-microsoft-ahead-big-govt-contract
BY TYLER DURDENWEDNESDAY, APR 14, 2021 – 03:45 PM
Authored by Mike Shedlock via MishTalk,
Nancy Pelosi's husband made an excellent options trade. Let's check it out.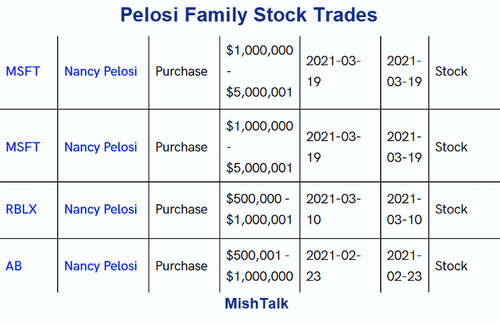 Legalized Insider Trading
It is OK for members of Congress to trade on inside information including government contracts before deals are announced.
House Speaker Nancy Pelosi did just that, rather, her husband did.
Purchase of Stock Via Call Options
Barron's reports Nancy Pelosi's Husband Bought Roblox, Microsoft Stock
The Barron's article is behind a paywall. Fox News also reports the same thing: Pelosi's Husband Bought $10M in Microsoft Shares Through Options.
House Speaker Nancy Pelosi's husband purchased millions of dollars worth of Microsoft (MSFT) and Roblox (RBLX) shares last month, new financial disclosures form reveal.

Paul Pelosi exercised call options and paid $1.95 million to buy 15,000 shares of Microsoft at a strike price of $130 on March 19, according to an April 9th filing with the House clerk. That same day, Pelosi, who owns and operates a California venture capital investment and consulting firm, paid $1.4 million for 10,000 shares valued at $140 apiece.

Since Pelosi made the purchase, Microsoft share prices have climbed from about $230 to roughly $255 – an increase of close to 11% – after the company secured a lucrative government contract worth nearly $22 billion to supply U.S. Army combat troops with augmented reality headsets. The deal was announced on March 31.
This is an extremely bad look at the very least. And at worst, it's outright corrupt.
It has the appearance of using insider knowledge of where the US government is headed.
Access to that knowledge if you are Speaker of the House you may have special insights in order to profit massively off of your stock trades.
Nancy Pelosi is already a very wealthy woman.
Why are members of Congress allowed to trade stock while they are holding public office?
We covered this on the Republican side at the beginning of Covid.
Even the appearance of this is so disgusting.
Nancy Pelosi Wealth
Nancy Pelosi in the 7th Richest Person in Congress.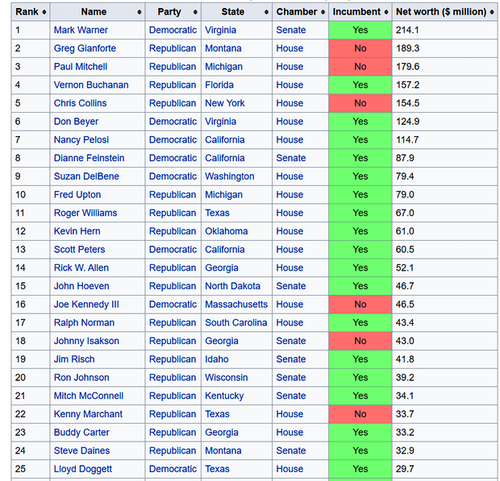 Question of the Day
Q: How did Nancy Pelosi become so wealthy?

A: You tell me. Any guesses?
Legal For Congress, Not You
Here are recent Pelosi Insider Moves. The list shows the Microsoft call options.
And here is a list of Senate Transactions you may be interested in.
Trading on insider knowledge is legal for members of Congress.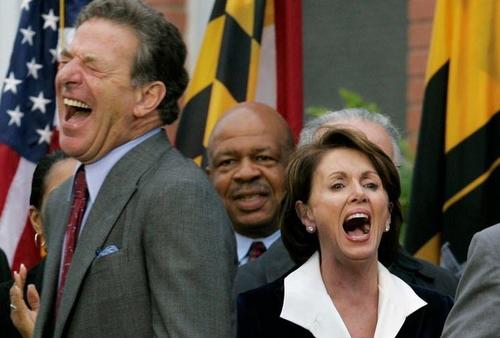 If you had knowledge of this deal and made a similar trade, then got caught, you would be fined, lose all your profits, and potentially be thrown into jail.