https://reclaimthenet.org/youtube-deletes-dislikes/
YouTube deletes more than 2.5M dislikes from Joe Biden's White House channel
YouTube says it's due to "spam" but didn't elaborate on how it's determined.
About 2.5 million dislikes have been removed from Biden videos on the official White House channel since Biden became president, according to an analysis.
YouTube allows users to like or dislike videos. However, on some occasions and for some channels for the past two years it has had a policy for removing likes and dislikes it deems spam.
"We have policies and systems in place to ensure that the engagement on YouTube is authentic, and remove any fraudulent metrics," a spokesperson for the platform told Reclaim The Net, but did not provide details on the criteria used to conclude a like or dislike is spam.
It appears YouTube is using the policy on videos posted by the White House. However, it's not a balance of both likes and dislikes being removed – only the dislikes are disappearing.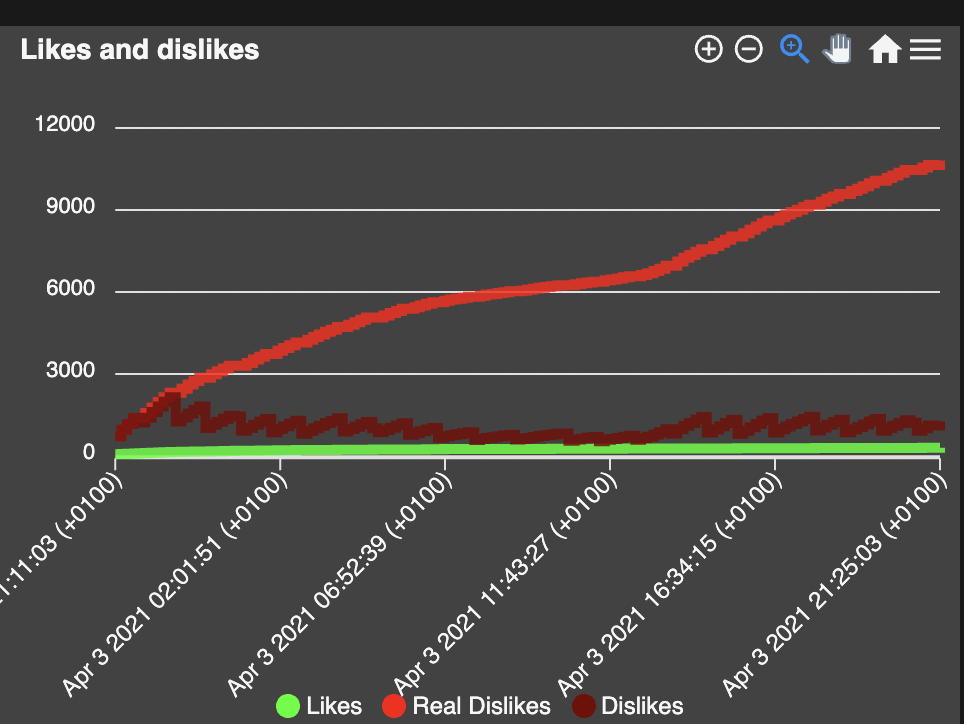 According to data posted online on the website 81m.org, whose owner has tracked engagement on the White House channel since January 26, nearly 2.5 million of the 3.7 million dislikes on the 300 videos posted have been removed.
Per the data, on average, YouTube has been removing about 8,000 dislikes on each video. And no single like was removed.
Since Biden assumed office, White House videos have been getting thousands of dislikes shortly after their posting. Even with YouTube's intervention, on average, each video has about six times more dislikes than likes.
YouTube recently announced that it was considering removing dislikes from all videos and was going to test it for some users.
==========
AND
==========
https://reclaimthenet.org/facebook-is-trigger-happy-when-it-comes-to-censorship-but-not-with-chinas-propaganda/
Facebook is trigger-happy when it comes to censorship. But not with China's propaganda.
Facebook allows the Chinese government to ads to show itself in a positive light.
It is common news that Facebook is blocked in China. However, the Chinese government frequently uses Facebook for spreading propaganda and showing itself in a positive light, while running advertisements on the platform. Of late, Facebook workers are growing concerned over Chinese organizations promoting posts that show Muslims looking happy and thriving.
The ones familiar with the Uyghur situation in China are suspecting that the country's government, through a number of Chinese organizations, is using Facebook and its advertising tools to form a public impression that Uyghurs are doing great in the country. It is, however, worth noting that the US government as well as some European governments are alleging that China is committing genocide against Uyghurs.
China strongly denies all accusations of human rights violations and says that such strong actions are necessary to suppress terrorism threats. The advertisements and content promoted by Chinese organizations, state media outlets, and government spokespeople comprise of videos wherein people from Xinjiang talk about Western nations plotting against China to destabilize the country and how their lives are improving gradually.
Facebook, as of now, hasn't responded or acted upon the concerns from its employees, according to what individuals close to the matter say.
A spokesperson from Facebook to the WSJ said that ads would not be taken down as long as they adhere to the platform's policies with regard to advertisements and promotions. The Big Tech company is apparently keeping track of the developments in Xinjiang "to help inform our approach and due diligence on this issue."
Facebook does takedown Xinjiang-related ads whenever they aren't labelled appropriately. It is because advertisers, when running promotions on the platform, must clearly indicate if they are covering any social or political issues.
A huge proportion of ads run by Beijing clearly violate Facebook ad policies and end up getting taken down. But then, prior to being taken down, those ads reach thousands of people across the world.
A Facebook employee, posting about Uyghur situation and how the US government declared it a genocide, wrote in the company's internal group "Muslim@" saying: "It's time our platform takes action to fight misinformation on the Uighur genocide."
The employee tagged key individuals such as the company's chief product officer Chris Cox and the CEO Mark Zuckerberg as well. "This is incredibly serious. Let me check with our integrity teams for a status update and circle back personally or with the right POC" said Cox.