For those of you who do not know what EMP weapons do, let me put it simply. A typical 10 Megaton nuclear device detonated five miles above the ground will fry every electronic circuit within a hundred miles or more. Your car will not run, Fried. Computers? Forget about them. Electric grid? Toast. Seriously bad news. Back to the 19th century — you will love candles.
https://www.livescience.com/air-force-emp-attacks-protection.html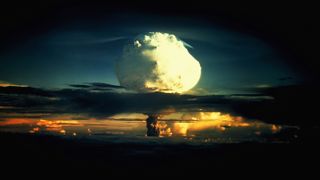 A U.S. Air Force base in Texas has taken the first steps to guard against an electromagnetic pulse (EMP) attack. But what, exactly, is an EMP, and how big is the threat?
Officials at the Joint Base San Antonio in Lackland, Texas, issued a request for bids to carry out a survey of a facility called the Petroleum, Oil and Lubrication Complex. The survey will identify any equipment that could be vulnerable to an EMP ahead of more detailed vulnerability testing, according to the request. After that, officials would figure out ways to keep that equipment safe in the event of an EMP attack.
Related: The 22 weirdest military weapons
What is an EMP?
An EMP is a massive burst of electromagnetic energy that can occur naturally or be generated deliberately using nuclear weapons. While many experts don't think EMPs pose a big threat, some people argue that these types of weapons could be used to cause widespread disruption to electricity-dependent societies.
"You can use a single weapon to collapse the entire North American power grid," said defense analyst Peter Pry, who served on the Congressional EMP Commission, which was set up to assess the threat of EMP attacks but shut down in 2017.
"Once the electric grid goes down, everything would collapse," Pry told Live Science. "Everything depends on electricity: telecommunications, transportation, even water."
According to the request, the testing at Lackland comes in response to a 2019 executive order issued by then-President Donald Trump for the federal government to strengthen its infrastructure against EMPs. Pry, who has consulted on the project, said the survey and resulting upgrades are part of a broader initiative by the U.S. Air Force to beef up its defenses against this type of threat.