Fascinating yet a bit Big Brotherish…
https://www.zerohedge.com/technology/new-document-exposes-how-company-can-track-your-car-real-time
BY TYLER DURDEN
According to a document obtained by Motherboard, a tiny surveillance contractor based in Charleston, South Carolina, can locate and track newer model cars in any country. This data is being packaged up into a new service and pitched to the US government as a powerful surveillance technology.
"Ulysses can provide our clients with the ability to remotely geo-locate vehicles in nearly every country except for North Korea and Cuba on a near real-time basis," the document written by The Ulysses Group, reads. "Currently, we can access over 15 billion vehicle locations around the world every month," the document adds.
In new automobiles, intelligent sensors transmit an array of data (even including location) to the automaker or third parties. Aggregator companies then take this data and integrate them into packages based on the needs of their clients.
"Vehicle telematics is data transmitted from the vehicle to the automaker or OEM through embedded communications systems in the car," the Ulysses document continues. "Among the thousands of other data points, vehicle location data is transmitted on a constant and near real-time basis while the vehicle is operating."
The document suggests Ulysses' tracking service could be used for military surveillance operations:
"We believe that this one attribute will dramatically enhance military intelligence and operational capabilities, as well as reduce the costs and risk footprint of ISR [intelligence, surveillance, reconnaissance] assets currently used to search for and acquire mobile targets of interest."
"Whether you want to geo-locate one vehicle or 25.000.000 as shown here. Currently, we can access over 15 billion vehicle locations around the world every month," the document concludes.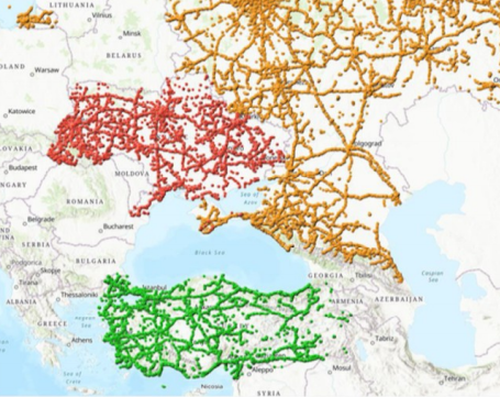 Motherboard sent the document to Senator Ron Wyden (D-Oregon). Wyden spokesperson Keith Chu responded in an email statement:
"Far too little is known about how private information is being bought and sold. Senator Wyden is conducting an ongoing investigation into the sale of personal data, particularly via data brokers, to put some sunlight on this shady industry. Our office is continuing to perform oversight into where data brokers are acquiring Americans' information, and who they're selling it to."
Motherboard noted Ulysses previously worked with US Special Operations Command on a different piece of technology to "analyze how peer and near-peer competitor countries were making economic and financial investments in Africa and Central and South America."
President of The Ulysses Group, Andrew Lewis, told Motherboard in an email that "any proprietary promotional material we may have produced is aspirational and developed based on publicly available information about modern telematics equipment."
"We do not have any contracts with the government or any of its agencies related to our work in the field and we have never received any funding whatsoever from the government related to telematics," Lewis added.
Here's the full document: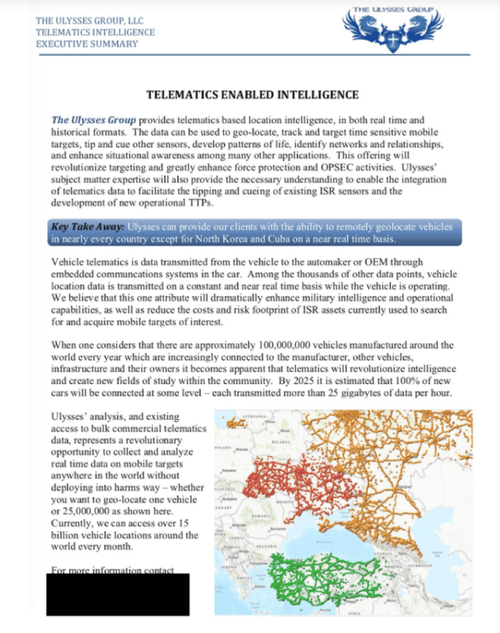 While the document does not specify how the surveillance firm procures its data, the luxuries of owning a modern car tied to the "internet of things" appear to have their downfalls as car companies or third parties, or even the government can track these vehicles in real-time.
In a world where COVID has accelerated the surveillance state, many people are wondering how to escape the Orwellian grid of surveillance and social control, well, first, own a car with limited technology embedded within – also we offer some simple steps to disappear from the surveillance matrix.