I did not even know what that was…
https://www.theepochtimes.com/how-to-make-3-ingredient-sabayon_3821552.html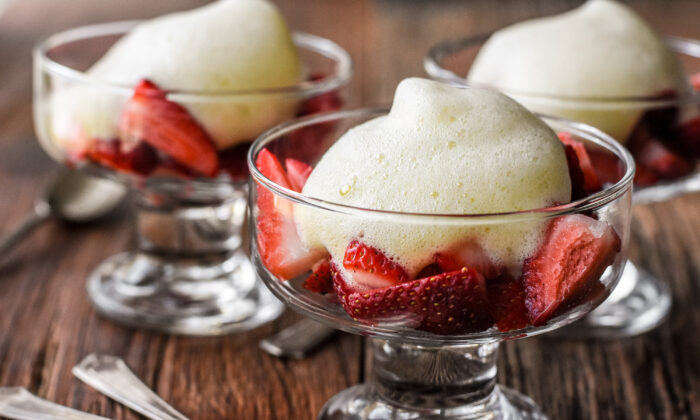 If you're looking for a new companion for your summer berries, search no further than sabayon.
An Italian import adopted by the French, sabayon is a delicate, frothy custard, made with just three ingredients: egg yolks, sugar, and wine. Rapidly whisked together over a bain-marie, the mixture transforms into an airy sauce. Light and subtly sweet, it's a great dairy-free alternative to whipped cream, perfect for spooning over juicy seasonal fruits.
The original Italian zabaione—sometimes spelled zabaglione—is made with Marsala, a brandy-fortified wine—15 to 20 percent ABV—produced in the city of Marsala in Sicily. Though reports vary, the recipe is said to date back to the 15th century, when it was enjoyed all throughout Northern Italy. The story goes that it was Catherine de' Medici's chefs who imported zabaione to the royal court of France, when she married King Henry II and became queen in 1547.
French sabayon traditionally swaps the Marsala for a classic white wine—10 to 15 percent ABV—be it dry, sweet, or even sparkling, like Champagne. It's thus slightly less boozy, a little airier, and subtler in flavor.
In modern France, sabayon can refer to either a savory or sweet custard. The savory version, made with white wine, egg yolks, lemon juice, and a pinch of salt, is often used as a frothy sauce to accompany delicate scallops or oysters.
This French classic can sound intimidating to make at home—but it shouldn't be. After all, it's a one-bowl recipe that only requires three ingredients and 10 minutes of your time. Just be sure to select a proper wine, set up a bain-marie, and get ready for some whisking action.
Choose the Wine
Unlike most savory recipes, in which the type of white wine you choose really matters, a dessert sabayon welcomes any type of white wine. Just know that the sweeter the wine is, the more rich and concentrated flavor the sabayon will produce.
Sweet wines such as riesling, muscat, or an ice wine will make for a richer-tasting sabayon, perfect for topping fresh berries. Dry wines, such sauvignon blanc or muscadet, and sparkling wines—including Champagne—will make for a lighter and less-sweet sabayon, better suited for topping a slice of cake or ice cream in lieu of whipped cream.
Add Gentle Heat
A bain-marie is essentially the French way to describe a double-boiler heating method. This method consists of bringing an inch or two of water to a simmer in a saucepan, and resting a heatproof bowl containing the ingredients to be heated on top of the saucepan without touching the surface of the water. This method applies gentle and constant heat, without burning or boiling any liquids.
In the case of a sabayon, this gentle heat ensures that the sauce warms up and thickens slowly but surely while you whisk it—instead of heating the egg yolks too quickly, which could end in scrambled eggs.
Whisk, Whisk, Whisk
Whisking is pretty much the only instruction here. You can use an electric hand mixer or go the manual route—as long as you're prepared for a workout.
The white wine and sugar are whisked together first, until the sugar is completely dissolved. Then you'll add the egg yolks and set your heatproof bowl over the bain-marie. Continue whisking, always making sure the water underneath remains at a simmer and never touches the base of the mixing bowl, and watch as the sauce expands and becomes delightfully foamy.
Once the sabayon has doubled in size and is thick and frothy, it's ready. If you have a candy thermometer, check that the temperature of the sauce reaches 150 degrees Fahrenheit.
2 Ways to Serve
There are two ways of serving a sabayon: fresh or broiled. For the first, simply spoon the warm sabayon sauce on top of your fresh fruits, and voila!
For the broiled version, make sure you place your fruits into an oven-safe serving vessel first. Then, spoon a few tablespoons of the sabayon on top, followed by a sprinkle of icing sugar. Place the vessel under the broiler or use a kitchen torch until the top is lightly golden and caramelized. The sabayon will puff up slightly with the heat and deflate as it cools.
Strawberries With Sabayon
Sabayon is meant to be served warm, which means you can only make it just before serving. To streamline the process, make sure you have all your ingredients measured out in front of you before you start.
Taking the extra step to macerate the strawberries in sugar beforehand will draw out their juices and tenderize them, as well as make for sweeter bites. The macerated strawberries can be prepared and stored in the fridge a few hours in advance.
Once you get familiar with this basic recipe, get creative with the fruits! Fresh, seasonal berries are perfect, but so are other fleshy fruits such as peaches, apricots, kiwi, mangoes, or papaya. Sabayon is also wonderful dolloped onto a slice of cake or scoop of ice cream, or simply served on its own in a cup, with a ladyfinger or two for dipping.
Serves 6
1 pound fresh strawberries, hulled and quartered
1/3 cup plus 1 tablespoon sugar, divided
6 large egg yolks, at room temperature
2/3 cup white wine (dry, sweet, or sparkling)
In a bowl, toss the strawberries with 1 tablespoon of the sugar and chill for at least one hour.
In a large heatproof bowl, whisk together the wine and sugar for about 2 minutes, until the sugar has completely dissolved and no crystals remain.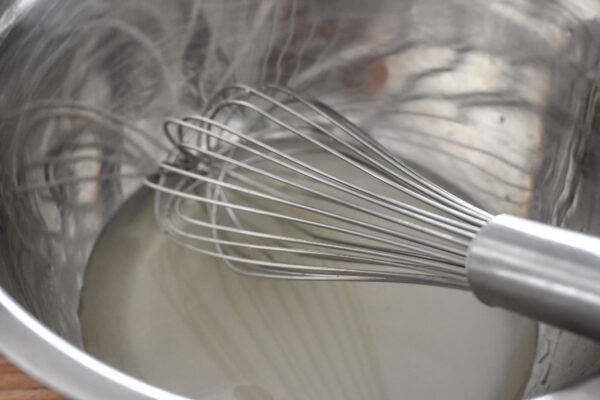 In a saucepan, bring an inch or two of water to a simmer. Rest the bowl snugly on top. The base of the bowl should not be touching the simmering water.
Add the egg yolks to the bowl and whisk until the mixture starts to expand and become frothy. Continue whisking—always making sure the water underneath remains at a simmer and never touches the base of the mixing bowl—until the mixture has doubled in size and is thick enough to easily scoop in big spoonfuls. If you have a candy thermometer, check that the temperature of the sauce has reached 150 degrees Fahrenheit.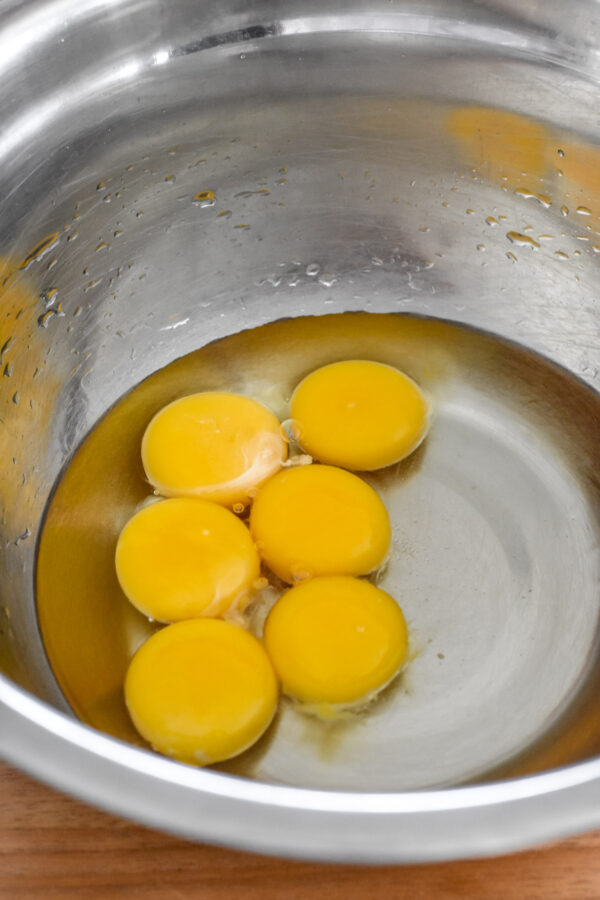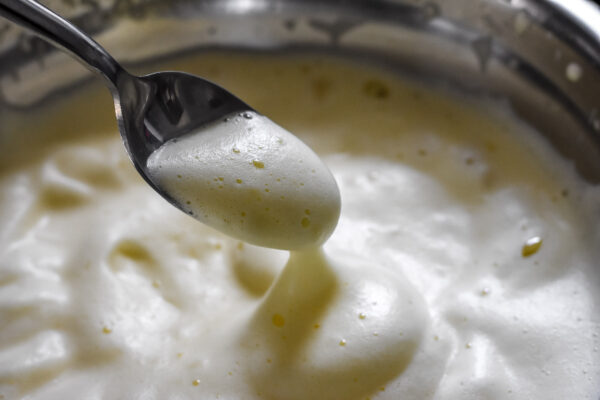 Place strawberries into individual serving cups and top each cup with about 2/3 cup of warm sabayon. Enjoy immediately.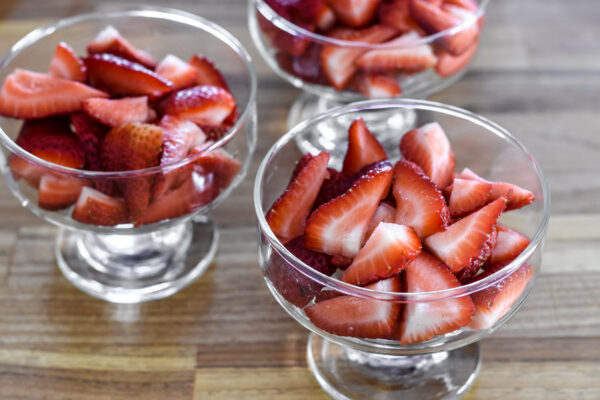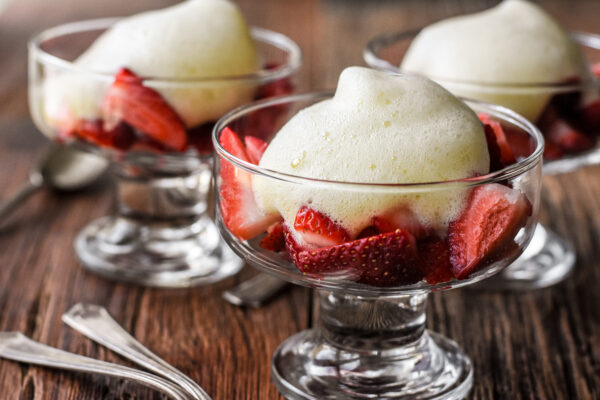 Audrey Le Goff is a French food writer, photographer, and creator of the food blog Pardon Your French, where she shares recipes and stories from her beloved home country, France. She is the author of the cookbook "Rustic French Cooking Made Easy" (2019). She currently lives in Niagara, Canada. Follow her on Instagram @pardonyourfrench