So much mismanagement here in Los Angeles…can't these "leaders" ever get it right?
https://www.theepochtimes.com/mkt_breakingnews/unused-trailers-for-homeless-sit-empty-in-la_3814529.html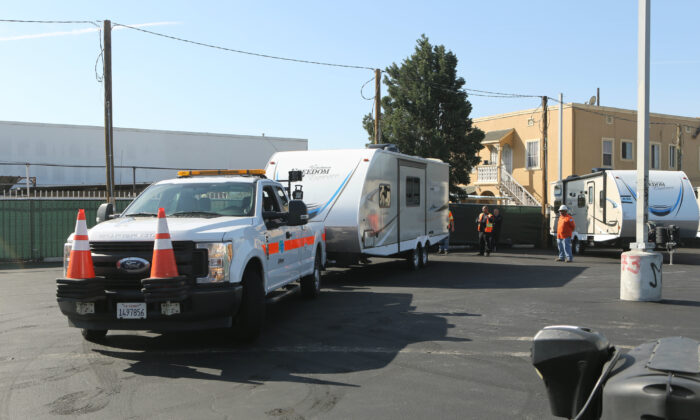 By Jamie Joseph
When the state of California gifted the city of Los Angeles 1,300 trailers to house the homeless last year during the peak of the COVID-19 outbreak, there was hope that some of the 66,000 people experiencing homelessness in the county would have shelter.
But a year later, many trailers are sitting empty and unused in parking lots next to the Los Angeles Zoo and Dodger Stadium, according to a local news report.
"It's upsetting to see all of those trailers sitting there in parking lots empty, when you know you have a humanitarian crisis playing out on the streets," Daniel Conway, an adviser for the LA Alliance for Human Rights, told The Epoch Times. "It's just hard to kind of make sense of it."
The trailers were bought from the Federal Emergency Management Agency (FEMA)—and cost taxpayers $50 million—to provide temporary shelter for the homeless in cities that need them the most. More than 100 parked and unused trailers were confirmed in an investigative report by CBS Los Angeles earlier this month, which said they cost more than $40,000 each.
According to Conway, L.A. city officials said the trailers failed due to their expensive nature: They require connection to sewage lines and need constant maintenance.
But he added that the officials "seem to kind of be inconsistent about that—because at the same time, they build affordable housing projects where they can cost $700,000 a unit," referring to how the city's Proposition HHH funds are being spent to build permanent supportive housing units.
Conway said L.A. County is "not good at producing housing" because it's done "very slowly and very expensively."
"So for a decade plus now, we've had this commitment to permanent supportive housing as kind of the answer to homelessness. But we've never actually been able to figure out how to turn that into like an actual operational scalable model," he said.
Soledad Ursua is chairwoman of the Venice Beach Neighborhood Council, a community organization dealing with a significant homeless problem on its residential streets. She said she took a wrong turn while driving in L.A. recently and saw the trailers locked up in a yard next to the Griffith Park Observatory.
"It's just very frustrating to see that there's trailers empty and we have, you know, thousands of unhoused homeless people on the streets," she said.
Conway said he thinks the city should give the trailers back to the state so they can be used in other communities. However, it's not clear if anyone would want them.
The state's trailer program also suffered setbacks in Northern California. In San Jose, local news reported that some trailers sat unused in the city, costing $1.3 million. Only 37 trailers were used—with each unit costing $54,000 per person—before the city rescinded the program, citing increasingly high costs for upkeep.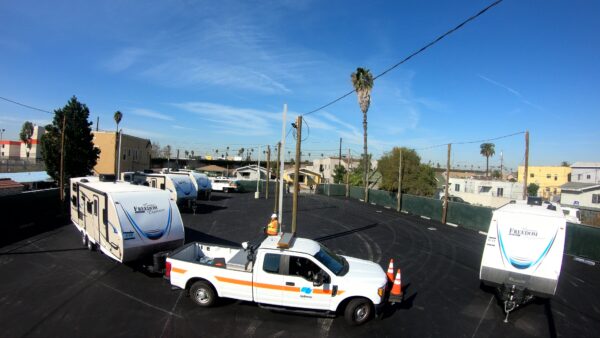 'Financially Negligent'
The LA Alliance for Human Rights includes business owners, social workers, and Skid Row residents. Last year, the group filed a federal lawsuit against the city and county to require them to take responsibility for "their legal obligations to maintain a safe and healthy environment for all—housed and unhoused."
Earlier this month, U.S. District Court Judge David O. Carter, who is overseeing the case, rejected the county's bid to be dismissed from the lawsuit. The county argued it should be immune from the lawsuit because Skid Row is within the city's limits; Carter determined the county's pleas don't apply to some of the plaintiff's allegations.
Ursua has been a vocal critic of the city's handling of the homelessness crisis in Venice Beach. She said the trailer situation is a great example of why the legal system should be brought into play.
"We need Judge Carter involved, because he could be somebody to manage the assets," she said.
Ursua said she thinks the county is acting in a "financially negligent" manner with the resources they have. "Judge Carter needs to step in and work it out, to oversee everything," she said.
Last month, Carter ordered the city of Los Angeles to place $1 billion in escrow for homeless funding, and ordered the city and county to offer shelter to the homeless people living on Skid Row within six months.
During Mayor Eric Garcetti's State of the City address last month, he announced he would dedicate $1 billion to address the homelessness crisis in the city. But Conway said it's difficult to reconcile Garcetti's proposed budget, when so much has already been spent on trailers that are not being used.
When contacted for comment, Gov. Gavin Newsom's Office referred The Epoch Times to Los Angeles County officials.
The County provided legal documents to The Epoch Times, detailing its request to stay Judge Carter's order requiring that all homeless individuals on Skid Row downtown be housed in temporary facilities within six months and stating the filing reflects the County's position on the case.
According to the filing, the County "is committed to addressing and improving the lives of people experiencing homelessness," and cites efforts taken on their behalf to provide services, housing, and shelter.
On May 10, Carter denied the request to dismiss the order.
"We are disappointed but not surprised that the District Court has denied the County's motion to dismiss. Meanwhile, we will continue to pursue our appeal to the Ninth Circuit of the District Court's preliminary injunction order," Skip Miller, the county's outside counsel in the lawsuit, told The Epoch Times in an emailed statement.
A few days later, on May 13, the Ninth Circuit Court of Appeals issued a stay on the judge's injunction until June 15, following a hearing on the case that will begin May 27.