This Whitless piece of work has the whole state angry with her tyrannical practices…she is as bad as governor Homo and governor Gruesome…
https://www.theepochtimes.com/mkt_breakingnews/petition-to-undo-whitmers-covid-19-executive-orders-has-enough-valid-signatures_3785496.html
BY TOM OZIMEK
A petition drive in Michigan seeking to repeal a law that underpins many of Democratic Gov. Gretchen Whitmer's restrictive COVID-19 executive orders has enough valid signatures to proceed up the chain that leads to the state Legislature, documents show.
The conservative-led initiative, called Unlock Michigan, needed 340,047 signatures to obtain certification from the state's Bureau of Elections, a necessary precondition to send the matter to the state's Republican-led Legislature. An April 19 staff report from the Michigan Secretary of State's office (pdf) estimated at a 100 percent confidence level that the petition drive had amassed 460,358 valid signatures out of a total filing that contained just over 538,000 signatures. The document also features a recommendation that the petition be certified.
The staff report is a precursor to a meeting of the Michigan Board of State Canvassers, which is composed of two Democrats and two Republicans and will convene April 22 (pdf) to consider whether the petition filed by Unlock Michigan is satisfactory.
Michigan Republicans have argued that Whitmer's lockdowns damaged the economy and the livelihood of residents. Unlock Michigan spokesman Fred Wszolek hailed the report's recommendation in a tweet.
"The MI Bureau of Elections recommends that the #UnlockMichigan petition be certified. With over 460,000 VALID signatures, it's not even a close call…. @GovWhitmer maybe now you'll try working WITH the legislature, instead of governing by decree?" Wszolek wrote.
Whitmer has signed nearly 130 executive orders since May 2020, imposing a bevy of COVID-19 restrictions that opponents have called both onerous and arbitrary, initially relying on a 1976 emergency powers law and later pivoting to an archaic 1945 Emergency Powers of Governor Act to undergird her actions. The governor has repeatedly insisted the measures were necessary to protect Michiganders from the outbreak.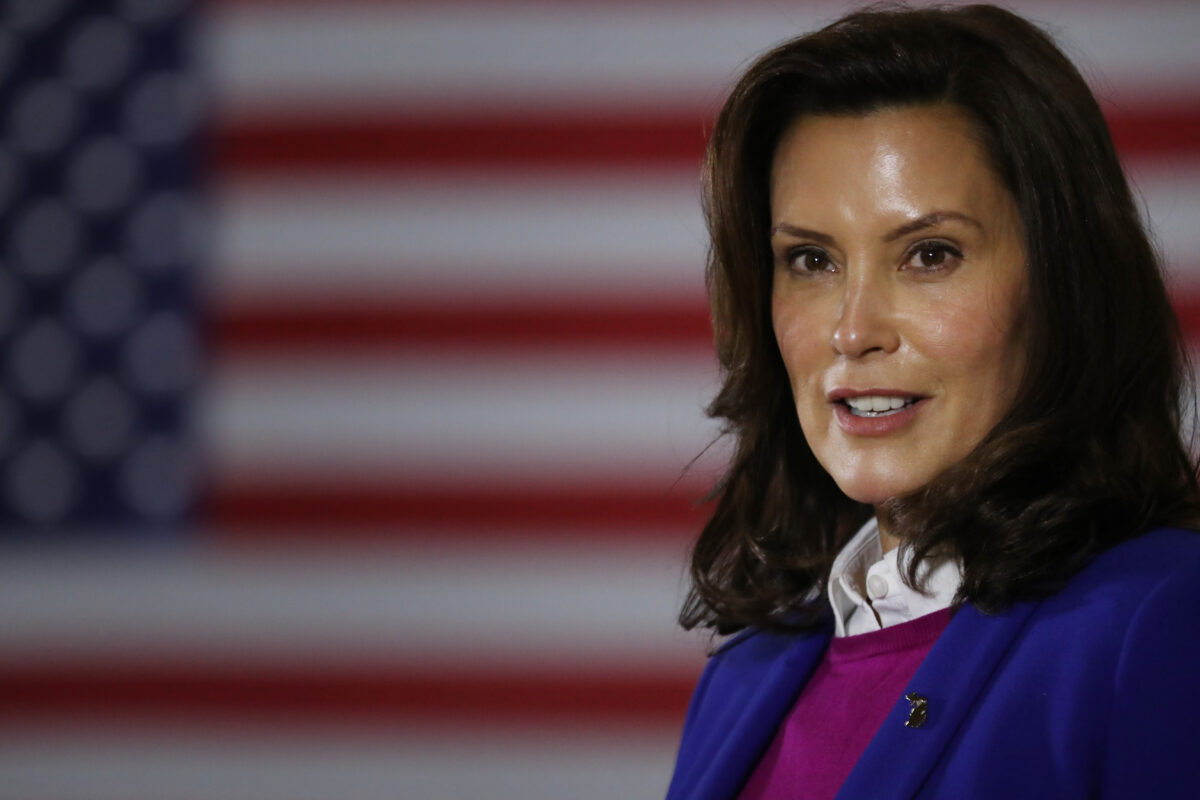 If the Board of State Canvassers validates the Unlock Michigan petition, it will head to the state Legislature, which could enact a repeal of the 1945 act and avoid a Whitmer veto. Alternatively, the Legislature could opt not to take up the matter and instead put it on a 2022 ballot for voters to decide, but Unlock Michigan expects the Legislature will move to repeal, according to The Detroit News.
An opposition group, Keep Michigan Safe, which backs Whitmer's use of state of emergency powers, has challenged the petition. In a legal complaint filed on April 9, the group called for a criminal investigation into how the signatures were collected, claiming evidence of forged and duplicated signatures and arguing that the language on the petition was misleading and failed to explain the repercussions of repealing the 1945 law.
Keep Michigan Safe spokesman Mark Fisk said in a statement that "by letting Unlock Michigan off the hook for its illegal and unethical practices, turning a blind eye to conflicts of interest and glossing over the Board's own abject failure to promulgate rules, this report has made a mockery of the initiative process."
"We're disappointed but we will make our case to the Board of Canvassers and the courts to stop this ill-conceived and irresponsible petition drive."
Responding to the complaint, Wszolek told MLive that the allegations brought forward by Keep Michigan Safe were "frivolous" and "preposterous."
"We just didn't need to [mislead] at all," he told the outlet. "We had no problem getting people to sign this petition. The demand for overturning the governor's abuse of emergency powers was pretty sweeping."
Less than two weeks after Unlock Michigan launched its petition drive, the Michigan Supreme Court ruled that the 1945 law is unconstitutional and that Michigan governors don't have the authority to issue executive orders on its basis.
Wszolek told MLive in early April that, regardless of the Supreme Court's ruling, Unlock Michigan was determined to see through the repeal.
"A different Supreme Court, like we currently have, could come to a different conclusion," he said. "We think that dumb ideas never really die in Lansing, they just take naps. This one needs to get strangled."
Whitmer recently said her state won't carry out another COVID-19-related lockdown amid a spring spike in cases, following Republican-led lawsuits in 2020 that argued she overstepped her constitutional authority.
"I have been sued by my Legislature. I have lost in a Republican-controlled Supreme Court, and I don't have all of the exact same tools [that I had 15 months ago]," Whitmer, a Democrat, told NBC's "Meet the Press" on April 18.
Despite not planning any lockdowns, Whitmer urged Michiganders to continue with public health measures in the face of the CCP virus.
"Well, at the end of the day, this is going to come down to whether or not everyone does their part. That's the most important thing," Whitmer said. "We're imploring people to take this seriously, mask up, get tested."
Jack Phillips contributed to this report.