https://www.theepochtimes.com/border-patrol-finds-149-illegal-aliens-inside-tractor-trailer-in-texas_3783283.html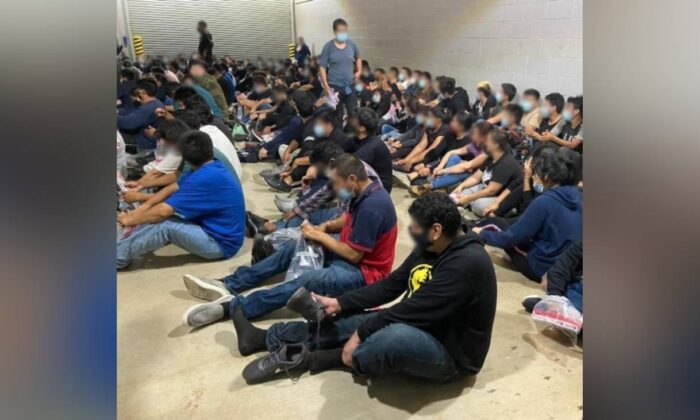 The U.S. Border Patrol found 149 illegal aliens locked inside a commercial tractor trailer on April 16 at a location near the Texas-Mexico border.
The vehicle was being screened at the Interstate Highway 35 north of Laredo, Texas. Border Patrol agents noticed "multiple anomalies" inside the trailer after a non-intrusive scan. Upon opening the sealed cargo area of the vehicle, they found 149 illegal aliens, according to a press release.
They were found to be illegal aliens hailing from Mexico, Guatemala, Honduras, Venezuela, El Salvador, Peru, and Ecuador. All were arrested. The driver, a U.S. citizen, was also arrested. The Special Agents of Homeland Security Investigations are set to further investigate the matter, which the Border Patrol calls a human smuggling attempt.
The U.S. Border Patrol also seized both the tractor and trailer.
The illegal aliens were all medically screened and were provided with personal protective equipment, since none were wearing any PPE.
"Human smugglers continue to have no regard for the safety and health of the people they exploit for profit," the CBP said in its release. "With a noted increase in COVID-19 infections among detainees, the transporting of large groups of people without PPE in close dangerous quarters endangers the individuals and safety of our Nation."
Texas in recent months has stepped up its response to a recent surge in the influx of illegal aliens across the southern border. Gov. Greg Abbott in early March launched Operation Lone Star, a mission to address the smuggling of humans and contraband into Texas across the southern border.
He later expanded the operation to also address human trafficking. In late March, the governor accused the Biden administration of having enacted border policies that served to embolden human traffickers to increase their operations.
In early April, Abbott announced that more than 16,000 illegal aliens had been referred to the Border Patrol, and 598 criminals were arrested by the Texas Department of Public Safety (DPS) as part of "Operation Lone Star." That equated to an average of 21 criminal arrests per day, and more than 570 referrals per day to Border Patrol.
Biden and other U.S. officials have repeatedly urged migrants to refrain from illegally crossing the border into the United States. Despite this, the number of illegal crossings at the southern border has, to date, been on the rise since October 2020.