So much bureaucracy here in Commiefornia…and couple that with the fraud the public perpetrates…becomes a major, major mess…when free money is involved, sheesh…
https://www.theepochtimes.com/as-edd-problems-persist-california-lawmakers-take-action_3767678.html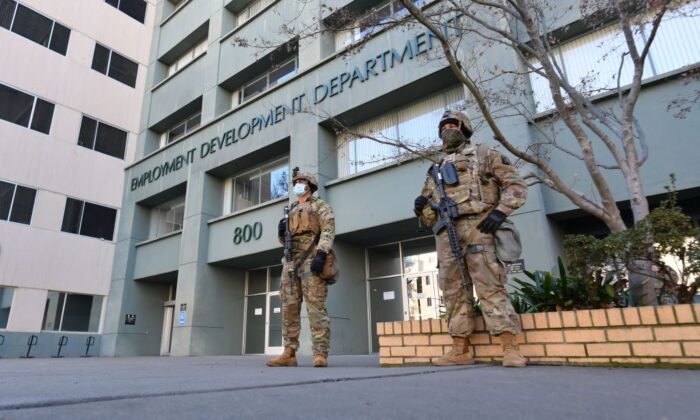 By Chris Karr
As California's Employment Development Department (EDD) scrambles to resolve the ballooning fiasco resulting from jobless claims during the pandemic, state lawmakers are saying enough is enough.
Recently released official reports cite numerous systematic problems with the agency, resulting in tens of billions of dollars paid out for fraudulent claims while needy citizens wait to receive legal benefits they desperately need.
"They seem to be impervious to the situation that they are in," Sen. Patrica Bates (R-Laguna Niguel) told The Epoch Times. "The fact that there's no great movement to resolve it makes no sense. … How in God's name does something like this happen and it just continues?"
Bates said her staff has essentially become "de facto, surrogate EDD staffers," working four to six hours each day to remedy some 400 unresolved cases in her district. For every page of claims they help resolve, she said, they have to add an additional page of claims—and some go back as far as November 2020.
"You hear those desperation calls [from] a mother with four children and no benefits," Bates said. "A father was on the phone crying. I was about ready to run down to Dana Point where he lives and write a check for him, and bring him some food."
Representatives for the EDD say the organization is actively addressing the issues. An EDD spokesperson told The Epoch Times via email that the department recently suspended nearly 1.5 million potentially fraudulent claims.
"We are in the process of completing our analysis of the remaining potentially fraudulent claims and will report on the final results in April," the spokesperson said.
But despite EDD efforts, the problems persist, and officials suggest a task force is needed to overhaul the system.
Widespread Issues
Some of the systematic problems with the EDD include weakness in claims processing, call center deficiencies, and failing to properly prepare for an economic crisis despite several warnings, according to a January state auditor's report.
In January, the EDD confirmed that it had paid out over $11 billion in fraudulent claims between March 2020 and Jan. 16, and said that an additional 17 percent of payments made during the period—nearly $20 billion more—went to potentially fraudulent accounts.
Those benefits included over $810 million paid to 45,000 prison inmates last year—with one criminal managing to collect $21,000 by claiming to be Sen. Dianne Feinstein. In another instance, 1,700 claims were filed from one address and still received payments.
"EDD was clearly under-prepared for the type and magnitude of criminal attacks and the sheer quantity of claims," EDD Director Rita Saenz said in a January press release.
State legislators told The Epoch Times that frustrated constituents have turned to them for help.
On Mar. 31, Sen. Shannon Grove (R-Bakersfield) contacted The Epoch Times to share photos forwarded to her from an employer in Encino. The photos show a pile of 87 fraudulent claims received in one week. The employer expressed extreme frustration to Grove, and told the senator she was no longer going to bother returning the claims to EDD—but the problem still needs to be fixed.
Business owners throughout the state contribute taxes to the EDD to fund the state's unemployment benefits. Fraudulent claims, made by nonexistent employees, can increase an employer's tax burden, and take time and effort to remedy.
Grove said she heard similar stories from employers in Visalia and Bakersfield, who also sent her photos of stacks of envelopes from the EDD. When opened, some displayed Social Security numbers.
Bates said a constituent sent her office 30 mailed replies from the EDD a few weeks ago, some of which contained debit cards. The mail pieces had been inexplicably sent to a man in San Francisco who didn't file for unemployment benefits; he sent them to his mother in the 36th Senate District, who turned them into Bates's office.
"When you think about that, that's got to be technology," Bates said. "You've got a system that can't handle the cumulative, duplicative cries for help that are going on."
A Personal Nightmare
Meanwhile, some genuine claimants waited months to receive needed benefits.
Joe Smith (a pseudonym) told The Epoch Times he went two months without receiving unemployment benefits because the EDD suspected him of fraud.
Smith, 69, is a retired firefighter who lives in Capistrano Beach. In early 2020, he had a seasonal position with a private company that provided transportation for college campuses and special events, but the shutdown put him out of work.
When Smith initially applied for unemployment last May, things went smoothly, he said. But in October, he got a letter in the mail saying his account was suspended—with no explanation. When he signed into his account, he saw that he had been flagged for identity fraud.
"I mean, they're kind of pointing the finger at me when they tell me my account's suspended for identity fraud," he told The Epoch Times. "I'm thinking, I've been the same guy for 60-some years. Same name, you know?"
Smith tried contacting the EDD, but said "it was an absolute nightmare."
"I tried to call them from 8 o'clock in the morning until 5 at night, and it was virtually impossible to get through, or they would tell you they have too many calls."
Smith said he'd call 50 or 60 times a day. "I spent hours and hours and hours," he recalled. This went on for a week. Usually, he was met with a recording saying they couldn't take his call; on a few occasions, he was propelled through a serpentine series of press-a-number commands that led nowhere.
With no solution in sight, Smith reached out to Sen. Bates's office for help. Thanks to their assistance, the EDD provided a link for him to verify his identity—but after he entered his information, the system rejected it.
When he was finally able to speak with an EDD employee, the representative guaranteed that his information had been confirmed and said he was "good to go." Several days later, however, he was informed that his information was invalid; though approved by a human employee, the computer wouldn't accept his driver's license.
Eventually, Smith was told his benefits would be processed retroactively. But three weeks later, he was still waiting.
"I know it doesn't seem like a whole lot of money … but that was our lifeline. That was what we were paying the light bill with, and the rent, and eating on," said Smith.
In early 2021, he finally received the benefits he had been denied. "I had to jump through hoops, and spend a whole lot of my time … [while] I could have been out attempting to gain employment."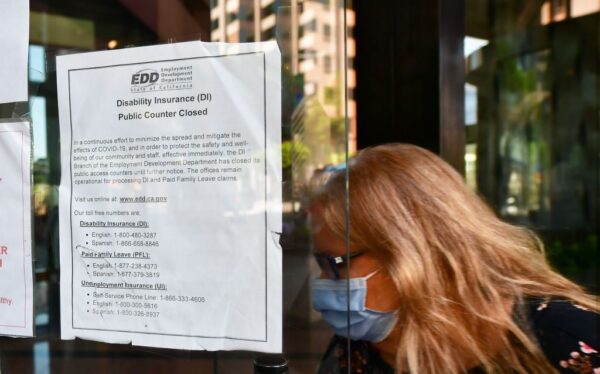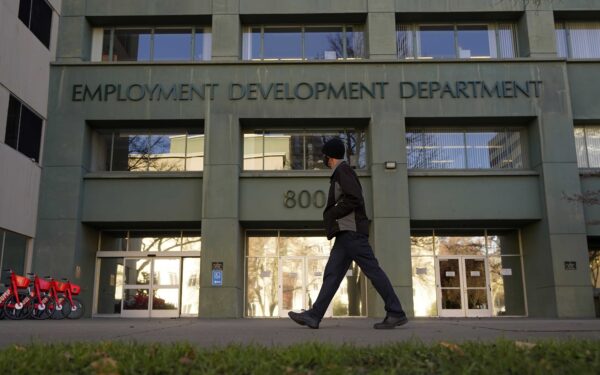 EDD Efforts
While some lawmakers say little progress has been made, the EDD recently presented a progress report to the state legislature indicating that they're addressing as many problems as possible.
In the two-week period leading up to March 13, the EDD reported that the staff at its call centers had received 5 million calls, and answered just over 10 percent—a marked improvement.
At the beginning of the claim surge, EDD's call center answered less than 1 percent of the calls it received, according a January state auditor's report. The auditor stated that the EDD quadrupled its call center staff to more than 5,600 people in response to the problems, but only marginally improved the percentage of calls it answered.
Between March 1, 2020, and March 13, 2021, the EDD paid over 12 million claims, according to its progress report. During the same period, it had declared about 674,000 claims to be ineligible to receive benefits, with over 200,000 pending claims yet to be resolved.
A spokesperson with the EDD told The Epoch Times that they had suspended nearly 1.5 million potentially fraudulent claims, detected by a fraud screening process in conjunction with Thomson Reuters. The claimants were notified in December 2020 and given until mid-March to verify their identities using the ID.me website or additional documentation, the spokesperson said in an email.
"In that time, just over a third of claimants verified their identities or resolved a non-identity eligibility issue and have been able to certify and receive benefits," the spokesperson said, adding that the analysis was still in progress.
The Social Security Number Problem
State legislators assert that detecting fraud is only part of the problem. Their main concern is that the EDD is perpetuating fraud by sending out mail containing Social Security numbers (SSNs).
The EDD sent out at least 38 million pieces of mail containing SSNs over eight months, according to a November 2020 auditor's report, which noted that such mail pieces could be stolen, accidentally sent, or delivered to the wrong address.
Moreover, fraudulent claims could result in multiple mailings to an incorrect address selected by the perpetrator. The auditor recommended removing SSNs from the three highest-volume forms by March.
A spokesperson from the EDD told The Epoch Times that they've already complied with the recommendation. "Two of the forms were fixed in December and one in February," the spokesperson said.
Nevertheless, lawmakers are advancing legislation that will prohibit EDD from mailing out such documents with SSNs.
Senate Bill 58 (SB 58)—co-authored by Sens. Bates, Melissa Melendez (R-Lake Elsinore), Rosilicie Ochoa Bogh (R-Yucaipa), Anna Caballero (D-Salinas), and Brian Dahle (R-Bieber), with others—would help prevent identity theft and fraud. Among other things, the bill would require the EDD to "designate a single unit responsible for coordinating fraud prevention and align the unit's duties with best practices for detecting and preventing fraud."
While the bill isn't a silver bullet solution, Melendez said it's a start. Like Bates, she said her office still has hundreds of open cases with EDD, from constituents dealing with hardships.
"SB 58 is just the first step to completely overhauling the prehistoric systems over at EDD to ensure they achieve their mission of helping Californians," Melendez told The Epoch Times.
"The Legislature needs to ensure that EDD is not giving criminals the information they need to defraud my constituents through the mail or by any other means. Considering the laundry list of problems at EDD, I would hope my colleagues understand the importance of this legislation and don't let that happen. I would hope this bill is passed sooner rather than later."
Thus far, the bill has been approved by the Senate Judiciary and Labor committees, and is currently pending in the Senate Appropriations Committee.
Added Melendez, "If the Governor isn't going to take responsibility for fixing EDD then the Legislature needs to use its powers to do so for him."