An adorable moment was captured on film at the start of the year when two twin baby brothers bonded for the first time at their south London home.
Four-month-old Archie and Freddie were captured giggling and having a "little chat" as they appeared to recognize each other, writes the Daily Mail.
The footage shows the twins visibly excited as they lie across from each other on their changing mats. Archie's face clearly breaks into a little smile as they stare, with fascination, into each other's eyes.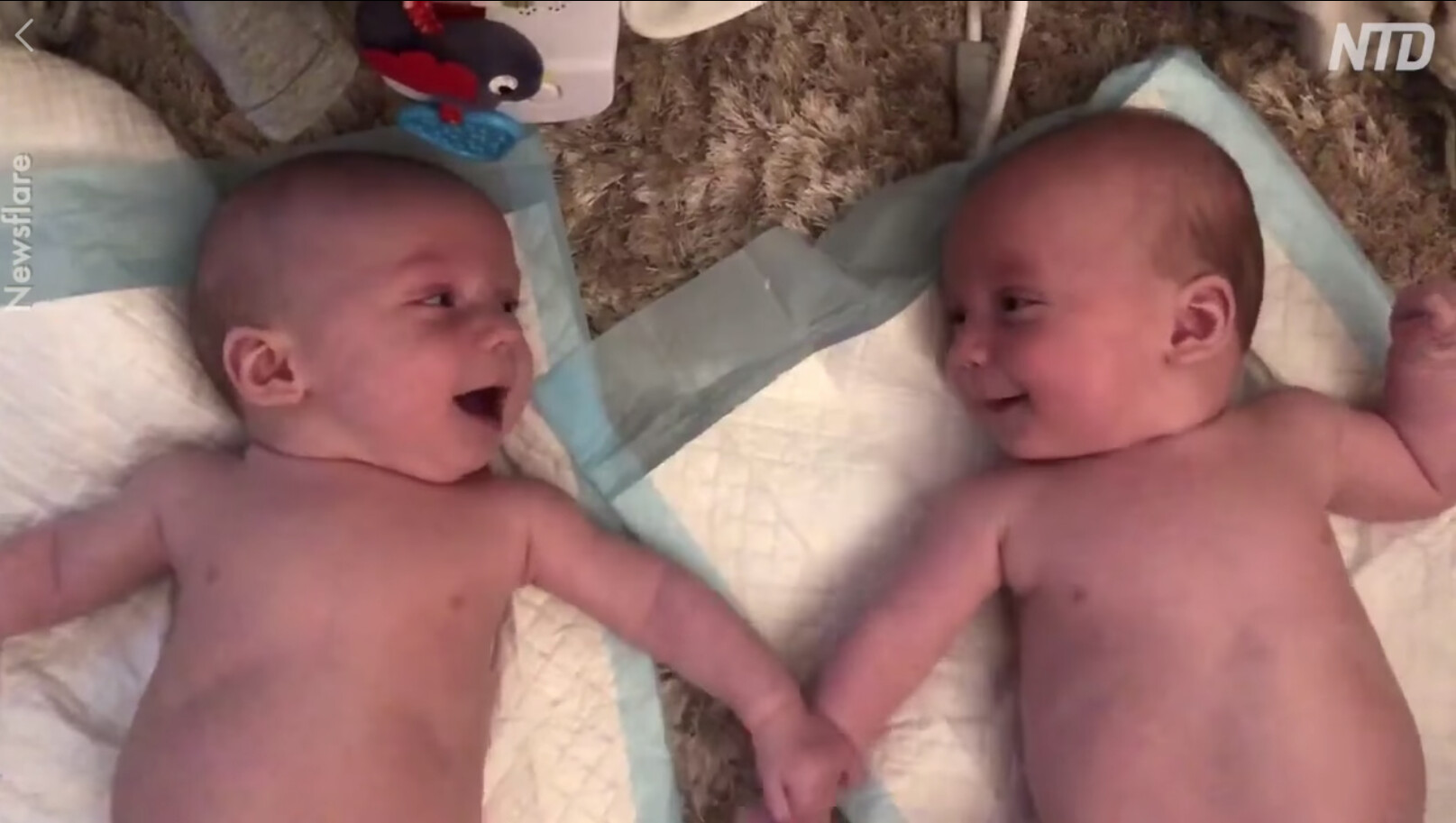 The clip from Jan. 3 shows the happy little pair making amusing noises, and gurgling sounds, almost as if they are communicating in their own special language.
They "acknowledged each other during nappy free time" and hadn't noticed each other before, social media user, and parent, Tara wrote on Instagram page Tara and the Twins.
Having shared that moment of recognition, the footage clearly shows Archie getting increasingly giddy and happy, with him letting out a loud squeal. Freddie, acting a little more patiently, just watches and listens to his brother curiously.
"Just before their bath Archie and Freddie had a little chat … well Archie chatted, Freddie listened," their parent said.
According to their Instagram page, Archie and Freddie are identical MoDi (monochorionic-diamniotic) twins and were born on Aug. 27, 2019.
Watch the video here:
https://www.theepochtimes.com/video-4-month-old-twin-brothers-meet-each-other-for-the-first-time-and-its-adorable_3422183.html
At birth, a baby is only usually able to see clearly for about 8–12 inches, Daily Mail writes. At two months, they will recognize their primary caregiver's facial features. Favorite toys and familiar objects are identified about a month later.
At four months, as with Archie and Freddie, their sight can reach several feet, and they can recognize colors and focus without going cross-eyed.
However, Scientific American notes that twins actually socially interact with each other as early as 14 weeks inside the womb. Researchers, using ultrasonography, found that by this stage, they were spending more time (30 percent) with each other than by themselves.
Whatever the science, the footage of Archie and Freddie is truly both heartwarming and fascinating viewing.
Share your stories with us at emg.inspired@epochtimes.com, and continue to get your daily dose of inspiration by signing up for the Epoch Inspired Newsletter here: https://www.theepochtimes.com/newsletter